Fasteners / Adhesive / Hardware
Fasteners are used to secure cable anchors to the structure to which they are mounted. Fasteners and adhesives must be compatible with both the cable anchor and the substate surfaces and materials to which they are affixed. This requires careful consideration before use and compliance with warranties.
NOTE: Only the fasteners listed below available through Dominion Lightning Rod. There are many other types and sizes available through hardware or specialty stores.
---
Bolts / Screws / Expansion Fasteners
Part #


Description

Diameter-Pitch
Length
Material
Drive Size
RSST-#10-1
Roofing Screw, self tapping w/bonded washer
#10-16
1"
Carbon Steel with Ruspert Coating
¼" Hex Head
RSSD-#10-1
Roofing Screw, self drilling w/bonded washer
#10-16
1"
Carbon Steel with Ruspert Coating
¼" Hex Head
RSSD-#10-1_1/2
Roofing Screw, self drilling w/bonded washer
#10-16
1-1/2"
Hard Zinc CR3+
¼" Hex Head
RSBSD-#10-1_1/2
Roofing Screw, self drilling w/bonded washer (Brown)
#10-16
1-1/2"
Hard Zinc CR3+
¼" Hex Head
SD-T5-#12-1_1/4
Tek 5, self drilling
#12-14
1-1/4"
Steel with Evoguard coating
¼" Hex Head
156-14-3/4
Screw, self tapping w/gasket & dome
¼"-14
¾"
C1022 with JS1000 plating
3/8" Hex Head
156-14-1_1/4
Screw, self tapping w/gasket & dome
¼"-14
1-1/4"
C1022 with JS1000 plating
3/8" Hex Head
SSST-#10-3/4
Screw, self tapping
#10-12
¾"
Stainless Steel
#2 Robertson
SSSD-#10-3/4
Screw, self drilling
#10-12
¾"
Stainless Steel
#2 Robertson
SSST-#10-1/2
Screw, self tapping
#10-12
½"
Stainless Steel
#2 Robertson
#152B-3/4
RH Machine Bolt
¼"-20
¾"
Brass
Flat Head
#152N-1/4
Hex Nut
¼"-20
n/a
Brass
SSRHMB-1/4-1
RH Machine Bolt
¼"-20
1"
Stainless Steel
#2 Robertson
SSN-1/4
Hex Nut
¼"-20
Stainless Steel
157-3/16-7/8
Nail-in Type Masonry Anchor
3/16"
7/8"
SS304 Nail with Zamac Alloy Body
157-1/4-7/8
Nail-in Type Masonry Anchor
¼"
1"
SS304 Nail with Zamac Alloy Body
---
Dom #HAS-(Opt 1) Stainless Steel Gear Clamps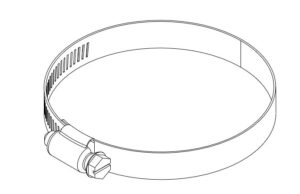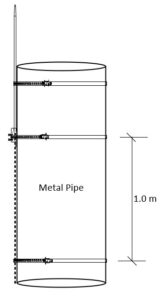 Description
Stainless Steel Adjustable Gear Clamp
All components are stainless steel for corrosion resistance.
Comes in multiple sizes to fit diameters up to 24-7/8"
Worm gear provides tension for fastening without penetration and easy installation.
Light weight
Single

Application
Used to fasten lightning protection materials to pipes or rounded surfaces where penetrations are to be avoided.
Dimensions
½" (12.7mm) width
.02" (.5mm) band thickness
Options
Opt 1 – Size (see chart for sizes available from Dominion)
HAS Size Chart
| Product Number (OPT1) | Minimum Diameter | Maximum Diameter |
| --- | --- | --- |
| HAS-24 (24) | 1″ (25.4 mm) | 2″ (50.8 mm) |
| HAS-32 (32) | 1-1/2″ (38 mm) | 2-1/2″ (63.5 mm) |
| HAS-48 (48) | 2-1/2″ (63.5 mm) | 3-1/2″ (89 mm) |
| HAS-64 (64) | 2-1/2″ (63.5 mm) | 4-1/2″ (114.3 mm) |
| HAS-88 (88) | 4″ (101.6 mm) | 6″ (152.4 mm) |
| HAS-188 (188) | 2-1/16″ (52.4 mm) | 12-1/4″ (311mm) |
| HAS-390 (390) | 14-7/8″ (377.8 mm) | 24-7/8″ (632 mm) |
---
M-1-(Opt 1) Adhesive / Sealant

Description
Moisture curing, Polyether adhesive/sealant designed for use damp, dry, or cold climates.
Solvent free and contains no isocyanates
Does not shrink upon curing and does not "bubble" on damp surfaces
Does not discolor when exposed to UV light
Resilient elastomeric properties and adhesion to most construction materials
Capable of joint movement in excess of 25% in both compression and extension
Can be applied at temperatures as low as 30˚F (0˚C)
Application
Used to adhere Adhesive bases and cable anchors to surfaces where mechanical penetrations must be avoided
Used to seal holes in penetration fittings.
Options
Opt 1 – Colours – (W) white (G) grey (L) limestone (B) black
Packaging
10.1 fl oz Caulking Tubes (300ml)
Weight
16.6 oz (g)